News and Updates
David Copeland · November 12, 2018
Newsletter · Volume: 18 Issue: 11
This is an expanded edition of the Revival Now Monthly Newsletter and we share information here that we do not have space to share in the printed edition due to space limitations. If you know someone who would enjoy this, please feel free to forward to your family and friends.
Happy Thanksgiving!
I am certainly looking forward to our Annual Thanksgiving gathering with family coming up in just a few days. It is always a welcome reprieve before I travel back to Kenya for our last Kenya Outreach of 2018. This has been another phenomenal year of ministry both in Kenya, Trinidad, and across the United States.
This year, I am very thankful to God that He counted me faithful (as Paul said in 1 Timothy 1:12) and He put me in the ministry. I wouldn't have chosen me, but thank God, He saw something I couldn't see at that time and called me anyhow. And this year Pam and I are marking forty years of Gospel ministry.
I am thankful to God for Him using us to not only spread the Gospel, but to also equip and train pastors and leaders from rural areas from across East Africa as well as other parts of the world. My first and foremost calling is to be a preacher of the Gospel. But at this stage in my life, I understand the urgent need for discipleship; to teach and train others to carry on solid Christian ministry long after I am gone. I never want it to be said David Copeland never impacted the next generation. One of the most humbling prophetic words I have received this year came a few weeks ago when a brother prophesied to me that he saw I had one foot in the older generation and one foot in the younger generation and God was using us to be a bridge between those generations. I want younger men and women of God to be able to stand on my shoulders and go higher in God than I will ever go.
I am thankful to God for my children and my grandchildren who are growing by leaps and bounds both physically and spiritually. This year we were honored to have our oldest daughter Megan, and her children, Madison & Elijah travel with us to Kenya for our Annual VBS Outreach to Hope Centre Children's Home. Last year, Missy & David traveled with us for the VBS. In 2019, I am believing God for our entire family to be able to go with us to Kenya. It's always a blessing when your kids support and pray for the assignment God has given you.
I am more thankful today than I have ever been for my sweet wife Pam. She is my best friend, my closest confidant, my favorite travel partner, and other than Holy Spirit, she is the most important part of this ministry. She is not only Mom to Megan & Missy, Nonnie to our grandchildren, she is also a spiritual mother to many, many people around the world. She has set a powerful example to the women of Kenya in how she has released and supported me going there during all these years she could not travel because of severe back issues. I thank God for her each and every day…not just at Thanksgiving.
Most of all, I thank God for saving me and writing my name in the Lamb's Book of Life so many years ago. They have a saying in Kenya that I have adopted as my own that goes like this: "God never leaves you in the same place He finds you." And that is so true. He has taken a bashful, shy, timid, backward thinking, backward acting little boy and grew him into a vessel He could use for His honor and Glory. I'm telling you, only God can do what has been accomplished in my life.
I am very, very, very thankful for the pastors who have opened their pulpits to us and allowed us to minister for them over these last seventeen and one-half years of traveling ministry. I am thankful for all our partners who have given sacrificially to Revival Now for the last seventeen and one-half years to make sure our assignment continues. God has allowed us to preach on four continents, in twenty-two different nations. I am thankful for every person who has given their lives to Jesus, for every team member that makes up the Revival Now International Ministry Team; for every leader that has been trained, every widow we have been able to help in some small way and for every orphan that has been rescued and given a chance to have hope. I thank God for you today.
I hope you are thankful for the things God has done in your life. Don't focus on what you don't have: focus on the miracles God has accomplished for you and the things He has completed in you. Purpose in your heart that you will celebrate His goodness with Thanksgiving every day of the year.
To read an expanded version of this month's Revival Now Newsletter, visit our website http://revivalnow.org/news.
Tune in to Revival Now Radio on Live 365 our new 24 hour/7 day a week Internet Radio Station by copying and pasting (or typing) this address into your web browser:
https://live365.com/station/a68434
You can also download the Live 365 app on your smartphone, search for "Revival Now Radio" and listen to us there.
Thank you for your continued prayers and financial support.
David & Pam

We are happy to report that we are well on our way to completing the new Kitchen for the Hope Centre Children's Home in Nyangusu/Kilgoris. Thank you to everyone who has contributed to the project thus far and here are some recent pics sent to me by Bishop Jackson Mongaine since our last newsletter: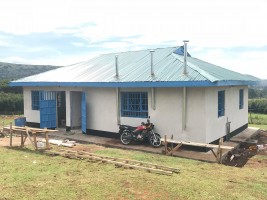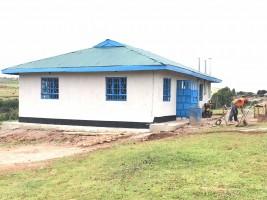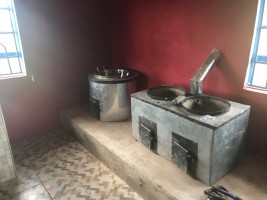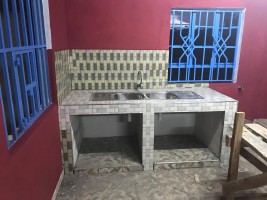 On November 27th I will return to Kenya for our last outreaches for 2018. Here's the dates for our December Kenya Schools of Ministry:
December 3-7 Malava School of Ministry
December 10-14 Kilgoris School of Ministry
December 15. Kilgoris School of Ministry Graduation
$50 will sponsor a pastor or leader to attend the Schools of Ministry in either of these locations. Our budget for these Schools of Ministry will be a little higher due to the graduation in Kilgoris..
We are very excited for the opportunity to enlarge our School of Ministry into Narok in 2019. But all this ministry takes a lot of funding. And as I have previously stated, because of our interdenominational focus, we do not have one single denomination funding our endeavors around the world. It takes people like you, helping people like us (with whatever God lays upon your heart) to fulfill the mandate upon our lives. You can give securely online at http://revivalnow.org/give.
We are also excited to announce the launching of Revival Now Radio on Live 365. You can download the free Live 365 app on your smartphone then search for Revival Now Radio. You can also listen on your computer by clicking the logo button below. We will also have the link posted on our website soon as well.
Partnership in the Kingdom is a wonderful thing with a three fold blessing: you get to see people saved, healed, delivered, equipped and released for Kingdom service here; you will meet people in heaven you will never get to meet on earth (even with social media), and you will hear Him say well done when we arrive there, in heaven.
Thank you for your continued prayers and financial support.
Blessings,
David & Pam