News and Updates
David Copeland · July 1, 2019
Newsletter · Volume: 19 Issue: 7
What a week it was! The 2019 Hope Centre VBS is now complete and by the time you receive this report we will have settled back into our routines at home. I want to personally thank this year's team for their outstanding contribution to the success of this annual Bible School for Hope Centre: Pam Copeland, Tim Williams, Madison Hayslip, Elijah Hayslip, Angie Stone, Lynn Clark, James & Kim Lacombe, Ann Marie Morgan and Debbie Huddleston. These men and women went above and beyond the call of duty!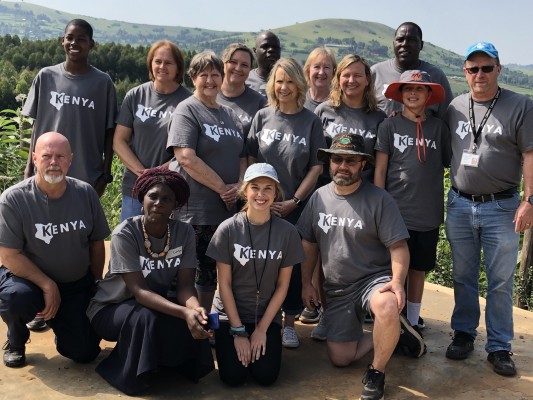 The warfare surrounding this trip was very unusual, which made me believe we were going to see some unusual victories before the end. And we did.

Our trip began in Atlanta with a mechanical issue that caused us to be delayed to Philadelphia where we were originally scheduled to connect to Nairobi via London on British Airways. To make a very long story short, after a five-hour delay, we finally made it to the gate in Philadelphia where we saw the plane pulling away from the gate. Thankfully, everyone laughed (at least they did to me) and we got in line for the next plan. After about one hour and a half of waiting in line, American Airlines sent us to LaGuardia Airport in New York where we had to overnight at a hotel then transfer to JFK Airport to connect on a non-stop Kenya Airways flight to Nairobi. While the non-stop was great, the flight was almost 14 hours…

It's all for the Gospel.

After we arrived in Nairobi, I knew we would be without our bags, and sure enough, they were not with us on the flight. After filling our claim forms and explaining our situation, we headed to the hotel and decided just to spend the day and that night in Nairobi to let the team rest and recover…at least some.

When we arrived in Kilgoris on Monday afternoon for the Hope Centre VBS, we made a Plan B for activities, crafts and a snack for the Hope Centre Kids. Our bags finally arrived on Monday night in Nairobi and Bishop Jackson Mongaine & Tim Williams traveled back to the airport on Tuesday afternoon to bring them to us. So, after 5 full days of wearing the same clothes, on Wednesday morning we had all our clothes, and all our supplies except one supply bag; which was finally delivered on Saturday, one day before we left to come home.

Again, it's all for the Gospel.
Enough of our drama. All the stress and delays and lack of clean clothes and lack of sleep were made up for when we arrived at Hope Centre. The children were very excited to see us, and God moved in a wonderful way.
Our Theme this year was based on the Group Publishing Vacation Bible School curriculum "Roar". The main thought was, whatever happens in life, God is still good. When life is crazy (it was this week), when life is scary, when life hurts and when life is good, God is always good. The theme and each lesson reinforced to our team the reason we were there; and when God ordains something, even when satan continuously attempts to hinder and oppose, God is ALWAYS good!
Thank you to United Christians House of Prayer in Austin, Texas, as well as some of our dear partners who wish to remain anonymous, who once again this year helped us to sponsor the Hope Centre VBS. Also thank you to the many partners who continue to help us each month with buying food, electricity, firewood, school uniforms, clothing and other essential supplies for the twenty-eight children at Hope Centre. At present we have completed the roof to Dormitory #2 which will be home for the girls at Hope Centre. We estimate that we need $30,000 more to finish the building, buy beds, mattresses and linens to move the children in. If you would like to give toward completing the second Dormitory, you may do so by PayPal at http://revivalnow.org/give. Click the PayPal link or the online giving system and be sure and mark your donation "Hope Centre Children's Home.

August 8th I will travel back to Kenya for our August sessions of the Kenya Schools of Ministry. We have over 750 pastors and leaders ready to gather in Malava, Kilgoris and in Narok for the upcoming Schools of Ministry. With the addition of the Narok School of Ministry our budget has increased dramatically. We really need your help this time to make these ministry times a blessing and a success. $50 will sponsor one pastor or one leader to attend either of the Schools in Malava, Kilgoris or Narok. You can also give online through PayPal at http://revivalnow.org/give. And be sure and mark your gift Kenya School of Ministry.

Aa always, thank you, our wonderful partners for believing in and supporting mine & Pam's part of the Great Commission.
Join us for the 2019 Revival Now Summer Conference
July 19-21
The Upper Room Church, Valley, Alabama
Pastors Bogey & Cyndee Cotney