A Heartbeat Away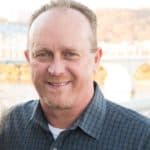 As of today, August 14, 2020, I have lived 21,518 days; 516,432 hours; 30,985,920 minutes; 1,859,155,200 seconds. My heart has beaten an estimated 223 billion times since September 14, 1961. That makes me tired thinking about it!
I attended a funeral yesterday of the mother of a dear friend of our family and ministry. She lived to be 95 years old and God answered her prayers all the way to the end of her life. Her dying wish was to pass away at home, in her own bed, and not a hospital bed. Most of all she loved God with all her heart and her family and friends as well.
As I sat there listening to the eulogy, my heart began to fill up and my eyes began to water up knowing that one day my days, and hours and minutes and seconds would end and life here on earth would be no more. I found myself praying this simple prayer while the minister was speaking:
"Oh Father, help me live my life in such a way that when I pass from this world, people will be sad that I am gone!"
Maybe I have finally lived long enough to realize my days are severely numbered. I not trying to be morbid, not am I just waxing nostalgic; life really is a vapor that appears for a little while then vanished away.
Friends, if there is anything left undone with family for friends, fix it today! Have you forgiven everyone who needs to be forgiven? Have you called that person who has been on your heart?
Most of all, have you made peace with your heavenly Father who stands ready to forgive you and bring you back into His fold right now?
One day, your heart will stop. And then you will stand before the God of all creation and He will ask you this very simple question:
"Did you surrender your life totally and completely to My Son?"